The Great Pole Vault Adventure
Seattle, WA to Athens, GA
August 2003
To read the latest updates from our trip, click here!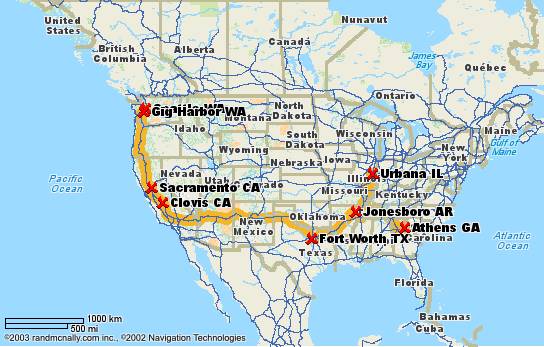 The Plan
(this is all subject to change, routes may differ from those shown on map)
July 30th
Plans include: finish packing, head to my high school to drop off the rest of the poles I am not taking to Georgia, coach any vaulters there, head to Edmonds for the all-comers meet to officiate the pole vault, have one last round of pizza and beer with teh Club Northwest guys, head down to Gig Harbor to Zack's house for the night
July 31st
Zack and I will leave Gig Harbor in the morning and head down to Sacramento to meet up with Wilson Soohoo for dinner. He's letting us crash at his place.
August 1st
We'll head down to Clovis for some HOT street vault action!
August 2nd
Taking off for Texas. This ought to be the only leg of the trip we have to get a hotel room.
August 3rd
We'll drive all day again and arrive at Bruce Caldwell's house in the evening.
August 4th
We will visit the ESSX plant in the morning and head up to Jonesboro in the afternoon.
August 5th
Well we were going to vault with Earl Bell, but he is going to be on vacation :( Dub Jones was nice enough to offer to coach us, so Zack will still get to see the Bell Athletics building and get to vault.
August 6th
We will head up to Illinois to visit the Gill plant. We're going to try and get there before 5pm so that we can see Jeff Watry before he goes out of town. Bryan Carrel is being generous enough to let us stay at his place.
August 7th
Hang out and Gill and maybe vault with Bryan if we get the chance. I heard he needs more people to test out his ultrafast board runway ;)
August 8th
Head back to Jonesboro
August 9th
I'll drop Zack off at the airport in Memphis so he can fly back to Seattle. Then I am heading back to Athens to get move in and whatnot before school starts. Best part... I get to see my wonderful boyfriend who I have not seen since May!
Please sign the guestbook while you are here!!
All photos © 2003 PoleVaultPower.com unless otherwise stated and may not be used without permission