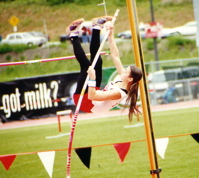 Becca Vaulting to a State Title in 2000
History of Pole Vault Power
It all started over 10 years ago when Becca was in high school. Becca vaulted for King's High School, a small school just north of Seattle. The coaches at King's used to maintain rankings of all the 1A athletes in the state, but had few marks for the girl pole vaulters in the state because it was a new event. After spending the season scouring every newspaper from every tiny town in WA, Becca decided that there should be a website dedicated just to the pole vaulters in WA. With the help of teammate Paul Mach, the Washington Pole Vault Site was born in 2001.
After 2 years of doing the WA rankings, Becca set her sights on the future. Becca dreamed of a site where pole vaulters all over the US could find out what pole vaulting opportunities were in their area. While planning the best way to do this, her friend Nick Twaddel talked her into setting up the message board she had talked about having on the site. The whole website ended up taking a year and a half to complete, but the message board was a huge success from the beginning, adding new members daily.
Over the years we have continued to grow at a steady pace, providing an outlet for vaulters and coaches to connect and discuss everything related to the sport. Moving forward, the goal is to improve the level and safety of vaulting in the US by increasing communication and opportunities to vault!